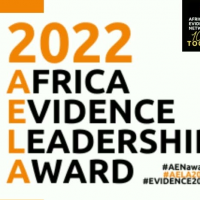 The two, Prof. Jennifer Orwa, Deputy Director, Resource Development and Knowledge Management and Prof. Eleanor Ochodo-Opondo, Research Scientists based at KEMRI's Centre for Global Health Research (CGHR) were among many African scientists nominated from various institutions and organizations in Africa based on their contribution in the evidence ecosystem. The two emerged runners-up in the Evidence Intermediaries and Evidence Producer categories respectively.
Prof. Orwa is celebrated for her significant contribution to evidence intermediary work in the Africa evidence ecosystem. She also spearheads the provision of institutional mechanism for sustained evidence reviews and synthesis to support the ministry of Health and County Level decisions in health through capacity building in knowledge translation and management for enhanced innovation. She is also the current Director of Cochrane Kenya, an affiliate of Cochrane collaboration hosted by KEMRI.


Equally, Prof. Ochodo was awarded for her contribution as an evidence champion whose work in evidence production has made
significant contributions to the Africa evidence ecosystem also wears many hats in matters science. She is an academic editor for the Cochrane infectious diseases group where she offers editorial and peer review for systematic reviews of infectious diseases. She is equally part of the Cochrane Africa Steering committee and a fellow of the African Science Leadership Programme. Prof. Ochodo was named as one of the Youngest Promising Researchers in 2018 by the National Research Foundation of South Africa and the top forty-career scientists in Africa by the African Academy of Sciences in 2021.
The Africa Evidence Network works with various entities in Africa to contribute to the increase of the use of evidence in decision making (EIDM) and KEMRI's scientists are among the Pan African participants for this forum whose main goal is making use of the best available evidence for the decision at hand. KEMRI celebrates these scientists for their impeccable work in putting the Institution in the Global map as far as research is concerned. Congratulations.